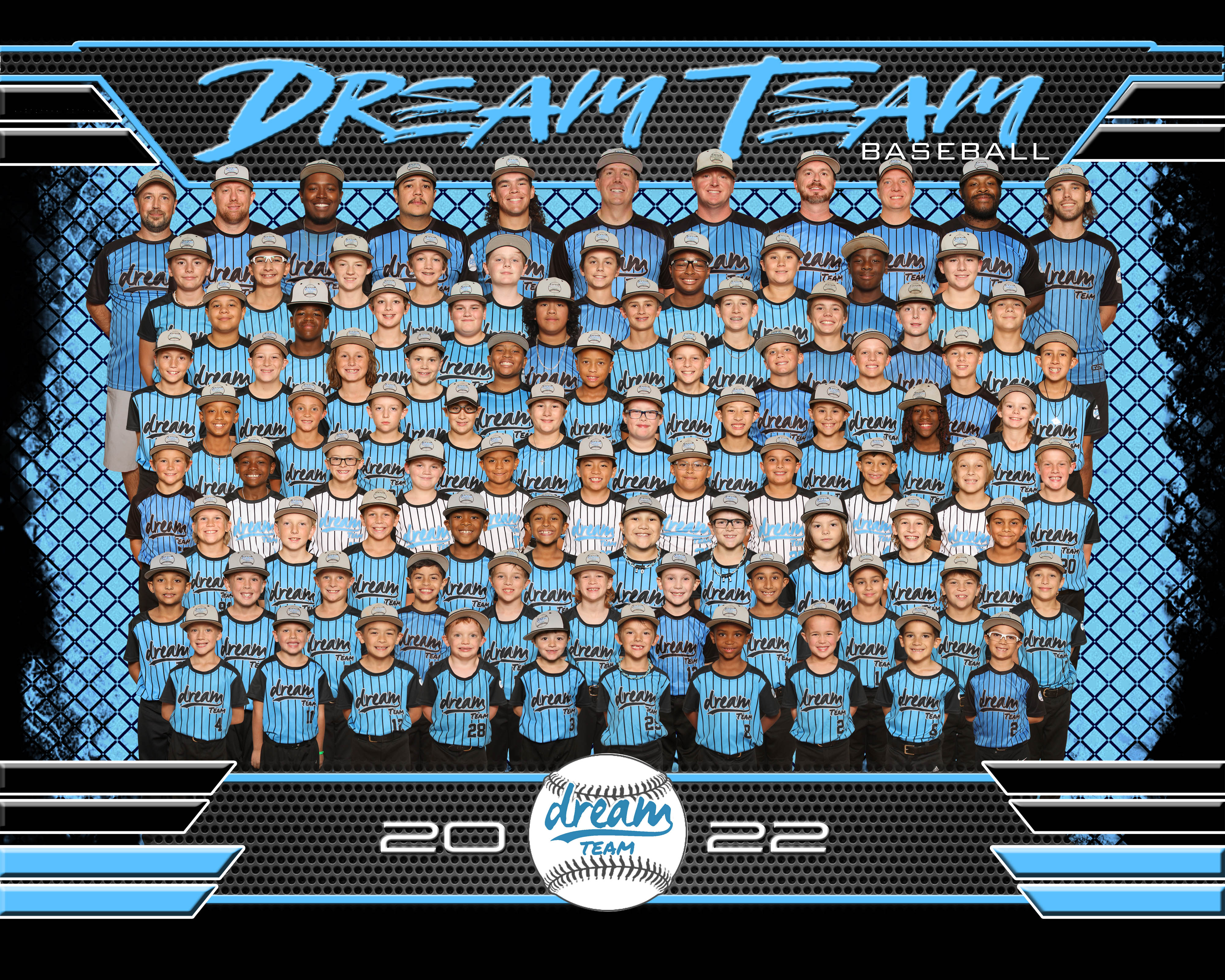 What is DREAM Team Baseball?
DREAM Team Baseball was established in Spring of 2021 with three teams and had eight teams in the Fall of 2021, nine teams in Spring of 2022, 10 teams in Fall of 2022 and we're so excited about the Spring of 2023. We're continually expanding. DREAM Team Baseball is now the LARGEST youth baseball organization in Mansfield, TX!
DREAM Team Baseball is about one thing, kids dreaming big! Kids watch & play the game of baseball & many dream of pitching a shut out, hitting a homer, or scoring the winning run...but there's something more to baseball in that it teaches kids incredible life lessons. Dreams can & do come true, BUT baseball teaches life lessons such as discipline, focus and teamwork. At DREAM Team Baseball, our goal is help provide quality instruction, constructive coaching, and outstanding practice facilities & fields to help kids achieve their dreams of growing in the game of baseball.
What do you get for joining the DREAM Team Baseball family?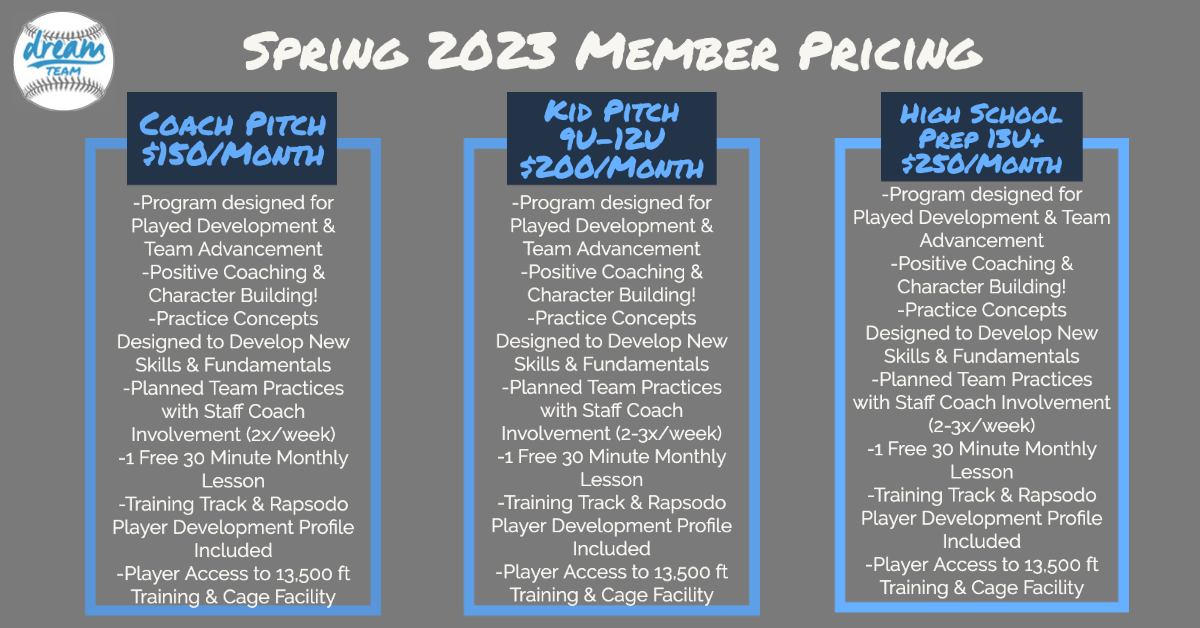 To read about our organization, first click here to read an overview presentation of our baseball program. (From Coach Patrick) In all my years of coaching, one thing that I've always wanted to do is provide players with an opportunity to have fun but also appreciably improve their skills on the field. I've over the past few years been researching ways to get more out of practices and instruction for players so that we could help instruct in a way that measures growth instead of just relying upon what the "eyes see." In my research, my philosophy has become "it's better to assess than guess" and by leveraging "new school" optical hitting/pitching technology our coaches and I can better assess hitting technique and make adjustments that will result in optimal performance.
As shown in our presentation of the Dream Team Baseball program along last Spring season's video preview, we're going to mix new school baseball technology with old school baseball technique; we're using a software that we've invested resources, time and effort into called Rapsodo (it's used from the youth level to high school/college and in the pros). It's a very robust software that can help us better instruct, the kids really don't need to be worried about it (it's purely for the coaches & parents that want to see the feedback from Rapsodo). We had a coach from the Texas Rangers who actually trained us and showed us how to best use the system this season. We also use an app for youth pitching mechanics that promotes an efficient delivery and arm health.
All of that said, DREAM Team wants to do everything we can to provide excellent resources to our teams and players this Fall! Visit the DREAM Team website for more details.
DREAM Team has hired baseball coaches & instructors (our entire coaching staff has played baseball competitively & has been certified/trained to coach youth baseball) to help provide excellent 1-on-1 & team instruction. We have some new technology for analyzing pitching mechanics & of course Rapsodo 2.0 for building better swing & pitching mechanics. Also, we provide an additional Training Track to accelerate learning & development! There is staff coach involvement (whether as a head coach or assistant coaches) with each of our teams.

DREAM Team rents or coordinates field use and even has fungo fields of its own so we can always use our own practice & fungo fields. (The average field rental for a team is roughly $120-$300 per month).

DREAM Team has its own 13,500 square foot training facility for indoor baseball instruction and practices. (The average players spends roughly $40 per month at local batting cages for rentals or hitting tokens).

DREAM Team holds included Training Workshops during each month of the season for no additional costs! (The average cost of these services elsewhere per player would be roughly $80 per month).

DREAM Team Baseball is sponsored by Academy Sports & Outdoors! This offers us so many advantages in terms of discounted gear and special sponsorships.

DREAM Team will provide up to two custom jerseys and a hat for the Fall season.

Our goal is to practice 2x per week (on average) if not more, we believe practice makes all the difference in development. The cost per month is $115 or if you want to take advantage of our Training Track (which is included in the Spring 2023 membership) you can do that as well to accelerate development.

DREAM Team Baseball is offering an opportunity for those that want to help do fundraising through DREAM company fundraisers (to help offset their player's DREAM Team participation fees). Most of our families that participate in fundraisers raise 100% of their tuition each season!
Please read below about each of the targeted training that each player gets in the DREAM Team program!
Measured Hitting Instruction
According to the publication Popular Science, "Hitting a baseball is the hardest skill to pull off in sports" as it is (scientifically speaking) "a unique blend of physics and neuroscience [which] makes the skill astronomically difficult." Now, take the hardest skill in sports and apply that with youth baseball players; it takes time, practice, and understanding of how to break down & teach to a young player what to do to be a good hitter.
At DREAM Baseball, we use "old school" hitting fundamental techniques and combine them with "new school" optical technology including measuring Exit Speed, Total Spin, Spin Access, Launch Angle, and Exit Direction. One may say that gathering this intelligence is going "over the top," but what the data does show is what happens when a player makes contact with the ball (which is obviously the result of their bat path and overall hitting mechanics). More than anything, this helps pinpoint simple adjustments that can be made and then see results (when adjustments are made) of better back spin (which produces line drives as opposed to top spin which produces ground balls). This is just one application of using software to get feedback from this type of swing analysis. With all of this intelligence, we can track and make necessary adjustments, but again there's a balance of using the "new school" software with traditional (old school) hitting fundamentals.
From a development standpoint, the main question (as instructors) is "why would you guess when you can assess (with measurements)?" DREAM Baseball will incorporate these measurements into hitting fundamentals and (by putting it all together) make every hitting session a learning session and overall produce greater results.
Comprehensive Base Running Instruction
Base running instruction is somewhat of a lost art within many baseball organizations when it is such an important aspect of the game. At DREAM Team Baseball, there will be practices specifically designed to work on base running & sliding technique, conditioning, and situational base running.
At our Field of Dreams, we'll have bases set up for base running stations to work on reading pick offs, proper takeoff technique, and sliding fundamentals.
Focused Fielding & Throwing Fundamentals
Very simply, the 6 "F's" of Fielding (Feet, Field, Funnel, Feet, Fire, & Follow) set the baseline of what good fielding instruction should be. Fielding instruction is vitally important for young players to work with coaches that can demonstrate the "right" way to field the baseball (whether it be working through a grounder or centering up a pop up to make the catch) and then get reps that are supervised with a focus on proper fielding technique.
Another focus of DREAM Team Baseball is built around the 3 B's of Fielding (a player must): 1) play the Baseball hit to them, 2) cover a Base, or 3) Back up another fielder. Part of understanding how to run an efficient fielding practice is having practice stations that are formulated to work on these aspects of fielding and throwing.
The Field of Dreams is built for instructional fielding and fungo where our players get to learn the comprehensive skillset of being a complete fielder no matter which position they're playing.
Intentional Pitching & Catching Instruction
Both the pitcher and catcher in the game of baseball are crucial positions in the game and require a lot of specialized instruction. This goes without saying, but there really is an incredible learning curve for young players to go from coach pitch and then into kid pitch, mastering these crucial positions. It takes intentional instruction and a focus on good technique (along with reps) to get players more competent in learning these positions.
Pitching Instruction
As mentioned in our Hitting Instruction section, DREAM Team Baseball subscribes to teaching "old school" pitching fundamentals, but also in leveraging "new school" software to help give measurements on the following areas:
12 Key Metrics - Backward Extension, Forward Extension, Arm Slot, Breaking Force Direction, Lift Force, Speed, Total Spin, Riflespin, Backspin, Sidespin, Vertical Movement and Horizontal Movement
These metrics again help with instructing pitchers in terms of looking at technique (especially with regards to extension when teaching young pitchers) and reinforcing pitching concepts that produce better overall results. However, again, pitchers must learn fundamental mechanics, and that will be a primary focus in the instruction given with gaining valuable feedback from the pitching metrics analysis.
Catching Instruction
With young players that play the Catcher's position, there are many different fundamentals that are necessary to learn and improve upon. DREAM focuses around catching fundamentals, but also pinpoints tangible tips to help improve footwork situational focus, and pitch framing.
Catching can be physically demanding so it's important that young catchers learn how to move with catcher's gear on, how to minimize pressure on their lower body, and proper throwing technique when throwing to fielders (to help preserve their throwing arm).
Interested in DREAM Team? Fill out this Form.
About the Owner:
Patrick Moraw
Patrick has been around the game of baseball for his entire life. From growing up playing youth baseball and then playing competitively for Texas 5A powerhouse ('92 State Champs) baseball program Brazoswood High School (south of Houston), Patrick has played the game but has always been a student of the game. As a young man, Patrick began his love for coaching kids when he coached a Dayspring Christian Academy high school basketball team (back in 1999) and then (fast forward) when Patrick & Rachel had two sons, Patrick started coaching his two boys' teams in 2015 and has coached the Mansfield Braves for 5 years.
If you are interested in joining DREAM Team Baseball, please click below for more information.