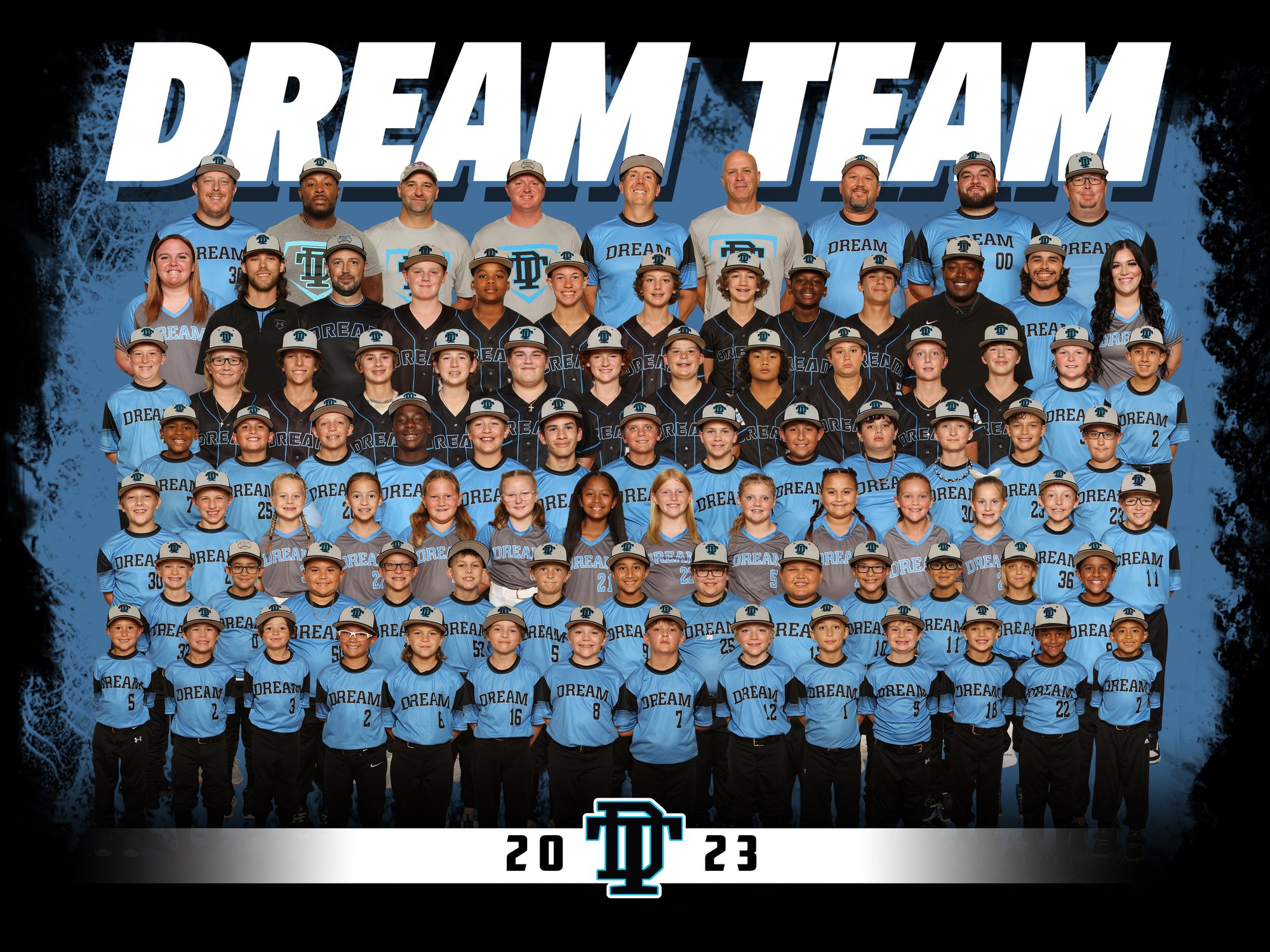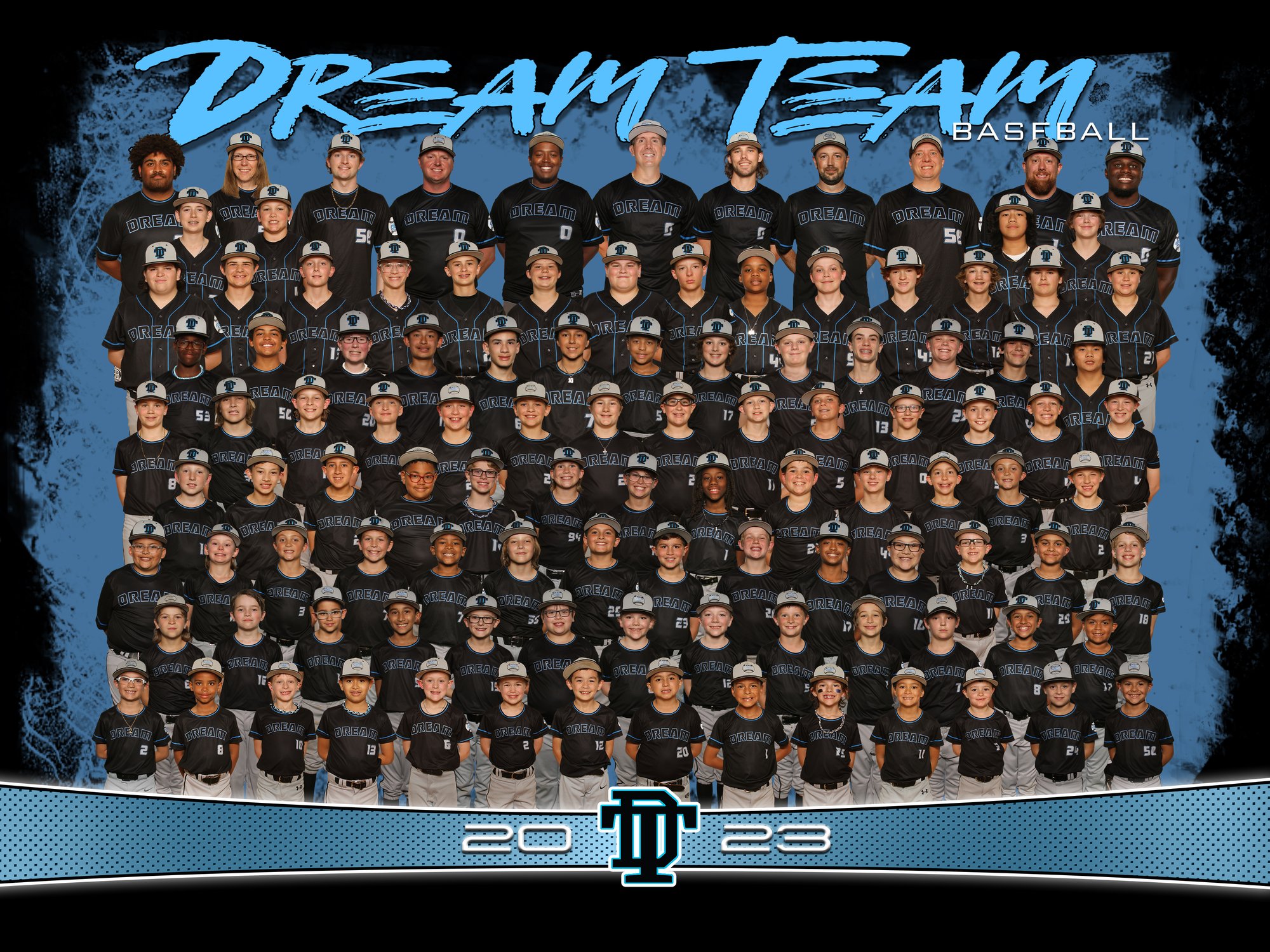 DREAM Team Girls Softball
What is DREAM Team all about?
DREAM Team Baseball was established in Spring of 2021 with three teams and has 9 teams (in Baseball and Softball) and we're so excited about the Spring of 2024 as we have expanded our Player Training benefits for the Spring. We're continually expanding. DREAM Team Baseball is now the LARGEST baseball/softball organization in Mansfield, TX!
DREAM Team is about one thing, kids dreaming big! Kids watch & play the game of baseball & many dream of pitching a shut out, hitting a homer, or scoring the winning run...but there's something more to baseball in that it teaches kids incredible life lessons. Dreams can & do come true, BUT baseball teaches life lessons such as discipline, focus and teamwork. At DREAM Team, our goal is help provide quality instruction, constructive coaching, and outstanding practice facilities & fields to help kids achieve their dreams of growing in the game of baseball/softball.
What do you get for joining the DREAM Team family?
To read about our organization, first
click here to read an overview presentation of our baseball program
(From Coach Patrick) In all my years of coaching, one thing that I've always wanted to do is provide players with an opportunity to have fun but also appreciably improve their skills on the field. I've over the past few years been researching ways to get more out of practices and instruction for players so that we could help instruct in a way that measures growth instead of just relying upon what the "eyes see." In my research, my philosophy has become "it's better to assess than guess" and by leveraging "new school" optical hitting/pitching technology our coaches and I can better assess hitting technique and make adjustments that will result in optimal performance.
As shown in this
Fall Baseball Preview video
, we're going to mix new school baseball technology with old school baseball technique; we're using a software that we've invested resources, time and effort into called Rapsodo (it's used from the youth level to high school/college and in the pros). It's a very robust software that can help us better instruct, the kids really don't need to be worried about it (it's purely for the coaches & parents that want to see the feedback from Rapsodo). We had a coach from the Texas Rangers who actually trained us and showed us how to best use the system this season. We also use an app for youth pitching mechanics that promotes an efficient delivery and arm health.
All of that said, DREAM Team wants to do everything we can to provide excellent resources to our teams and players!
Visit the DREAM Team website for more details.
DREAM Team has hired baseball coaches & instructors (our entire coaching staff has played baseball competitively & has been certified/trained to coach youth baseball) to help provide excellent 1-on-1 & team instruction. We have some new technology for analyzing pitching mechanics & of course Rapsodo 2.0 for building better swing & pitching mechanics. Also, we provide an additional Training Track to accelerate learning & development! There is staff coach involvement (whether as a head coach or assistant coaches) with each of our teams.

DREAM Team rents or coordinates field use and even has fungo fields of its own so we can always use our own practice & fungo fields. (The average field rental for a team is roughly $120-$300 per month).

DREAM Team has its own 13,500 square foot training facility for indoor baseball instruction and practices. (The average players spends roughly $40 per month at local batting cages for rentals or hitting tokens).

DREAM Team holds included Training Workshops during each month of the season for no additional costs! (The average cost of these services elsewhere per player would be roughly $80 per month).

DREAM Team Baseball is sponsored by Academy Sports & Outdoors! This offers us so many advantages in terms of discounted gear and special sponsorships.

DREAM Team will provide a custom jersey and a hat (as needed by each team) each season.

Our goal is to practice 2x per week (on average) if not more, we believe practice makes all the difference in development.

DREAM Team Baseball is offering an opportunity for those that want to help do fundraising through DREAM company fundraisers (to help offset their player's DREAM Team participation fees). Most of our families that participate in fundraisers raise 100% of their tuition each season!
DREAM Team Player Assessment Strategy
What makes our organization different (in a very good way)?
How many practices per week does DREAM Team practice?
Our league teams generally practice twice per week and three times per week if you count Training Track. Our tournament teams generally practice three times per week. We believe that to improve and develop a player must be faithful to attend practice! We believe that practice is extremely important as that's where a player's development really occurs (practice is where skills are built, games are where skills are displayed).
How does playing time work?
DREAM Team is about one thing, kids dreaming big! Kids watch & play the game of baseball & many dream of pitching a shutout, hitting a homer, or scoring the winning run...but there's something more to baseball in that it teaches kids incredible life lessons. Baseball (and softball) is a very competitive sport and we typically see a lot of growth over the course of 2-3 consecutive DREAM Team seasons (there will be growth within one season, but it takes more time to bring players fully up to a competitive balance of baseball skills). Dreams can & do come true, BUT baseball teaches life lessons such as discipline, focus and teamwork. At DREAM Team, our goal is to help provide quality instruction, constructive coaching, and outstanding practice facilities & fields to help kids achieve their dreams of growing in the game of baseball. Our motto is DREAM Big, WORK Hard, and TEAM First.
As a development organization, we want to keep developing and challenging players to "grow their game" over the course of each season. Player assessments may occur during the course of the season (month to month), but each player will be assessed after each season and parents will have access to the constructive coaching feedback according to this DREAM Team Player Evaluation Sheet. Also, DREAM Team offers year-round training and classes & lessons to help players accelerate their development.
DREAM Team as a select baseball organization does perform preseason skills tryouts (to select players) and combine events to measure skills. Our organization also employs Rapsodo Hitting and Pitching ball-tracking software to further evaluate and measure player development. Players can be given (through use of Rapsodo) a RapScore which is independent of DREAM Team, but can provide insight on Hitting and Pitching skills and development as it relates to players' skills at their age level (basically, it compares their metrics to their peers that use Rapsodo). DREAM Team assesses development using Rapsodo as outlined here on this webpage.
For MYBA, please refer to the MYBA rulebook as our coaches are instructed to follow the In-City MYBA rulebook for playing time.
For tournaments, every game's lineup is constructed by the team's head coach (he will pre-plan the lineup using each player that has RSVP'd 'Yes' via GameChanger or is known to be present on the roster & at the game). Each head coach is tasked with getting every player in the lineup or on the field in some way on Saturday (this can include pinch hitting, being a defensive sub, pinch running or involved in some other way). Barring an unexpected circumstance (illness, poor attitude, lack of coachability, or for some other valid coach's reason) the player will play at some point unless there are circumstances that prevent it.
Generally speaking, head coaches select each weekend's tournament lineups by the following criteria:
Player Availability (which players have committed to play at a tournament)
Position Availability & Skills or Ability (our coaches may have to consider which positions we will need for certain tournaments)
Coaches Consideration & Planning (although stats are a consideration, they are not the only coaches consideration---in baseball, you can get hits and swing the bat poorly and conversely you can swing the bat very well and the ball gets caught by a fielder)
For elimination games, the head coach will pre-plan lineups and there is a possibility that players may not play (we instruct our head coaches to do their very best to communicate with the player on their playing time if at all possible). The goal of an elimination game is to win and advance and our organization's goal is to get all players to contribute, but there may be a circumstance that arises which keeps the player from playing in that game (possibly, the head coach was planning on the player playing in the next game ahead or it's often the case where the head coach saves a player from playing in the first game in the field as they are the starting pitcher for the second elimination game). Ultimately, our organization's goal is to do our very best to get every player involved. We are not perfect and lineup mistakes may happen, but we ask for parents to give head coaches the benefit of the doubt and NEVER approach a coach during the game. As long as the parent respectfully asks a question in an orderly manner, the coach will be happy to provide an answer.
In conclusion, a coach's job goes beyond coaching players on the field, it is as important that each player learn how to develop skills even when being a sub or in the dugout as outlined in this blogpost.
Does DREAM Team have teams of all ages and skill levels?
Yes! DREAM Team offers baseball or softball for all ages from 7U-14U! Our goal is to form teams by age and skill level (some in baseball play in MYBA (Mansfield Youth Baseball Association) or MGSA (Mansfield Girls Softball Association), but many play tournaments). We will do our best to communicate to parents which teams have open spots preseason and when available with the goal of each selected player being able to play on a DREAM Team during the season or train with our DREAM Team Sports Center staff.
Interested in DREAM Team? Fill out this Form.
About the Owner:
Patrick Moraw
Patrick has been around the game of baseball for his entire life. From growing up playing youth baseball and then playing competitively for Texas 5A powerhouse ('92 State Champs) baseball program Brazoswood High School (south of Houston), Patrick has played the game but has always been a student of the game. As a young man, Patrick began his love for coaching kids when he coached a Dayspring Christian Academy high school basketball team (back in 1999) and then (fast forward) when Patrick & Rachel had two sons, Patrick started coaching his two boys' teams in 2015 and has coached the Mansfield Braves for 5 years.