Happening now at DREAM Team Baseball!
Hey DREAM Team Family!
Get ready to swing into September with our Dream Team Baseball News!
As the leaves start to change (hopefully soon), our players are gearing up to start the season with a bang!
September is all about being
#SeptemberStrong
and we can't wait to show you what our teams have in store.
Stay up-to-date with the latest news, game highlights, player interviews, and more by following us on Social, our Blog, and our Website.
Ignite your player or team's fielding skills this August with FungoMan Classes!
Are your players looking to level up their game? Look no further! FungoMan is here to revolutionize the way you train and elevate your fielding abilities to new heights!
*Drills to Improve Catch & Release Time
*Instruction Teaching Proper Techniques
*Drills to Increase Range
*Drills to Develop Consistency in Fielding
*Improve from Week to Week & there are many more skills to be refined!
Mark your calendars for our upcoming preseason Fall classes and give your player & team the competitive edge they deserve!
August 11th at 7 pm
August 18th at 7 pm
August 25th at 7 pm
September 1st at 7 pm
Don't wait, spots are limited! Book now for $25 Off (Preseason Fall Special) at
https://hubs.ly/Q01-7Ncw0
or contact us at 1.817.382.9821 to secure your spot today and witness the remarkable transformation in your player's fielding skills!
🎉🥎 DREAM Team Softball Is Here! 🥎🎉
That's right! We're BEYOND excited to officially announce the launch of DREAM Team Softball - bringing our best-in-class training and premier teams to girl athletes in the area! We have two Fall teams forming right now: 10U & 12U 🙌🏼
At our state-of-the-art 13,500 sq ft facility, softball players will train using:
9 High-tech Batting Cages

Full Agility and Strength Training Zone 💪

2 Specialized Fungo Fields for drills ⚾️

Experienced, positive coaches to unlock potential

Local weekend tournaments to test skills
We're committed to empowering the next generation of female athletes with a positive, supportive environment and access to the same elite training resources as our baseball program.
DREAM Team Softball will develop grit, confidence, leadership and skill improvement through repeated game-speed reps, data-based coaching, and sports psychology.
True competitors are made in the offseason! We can't wait to see you at our facility as we build the premier softball training destination in the region. If you'd like to sign up, then feel free to do so by clicking HERE! And if you have any questions, as always please feel free to reach out to us. We're more than happy to help guide you along the way.
⚾️ Fall Tryouts - Level Up Your Game with DREAM Team! ⚾️
What a stellar spring season for DREAM Team Baseball with too many highlights to count! Our 9 AA/AAA/Majors teams, with over 130 talented players ages 7-13, achieved new heights of success through hard work and dedication.
Many of our spring athletes have continued excelling in summer tournaments, utilizing the skills honed during our intensive training program. From local showcases to elite travel ball events, we're proud to see DREAM Team players competing at the highest levels.
Now we're gearing up for the fall 2023 by opening tryouts to new players who want to join our proven player development system. We can't wait to build on our spring achievements and see familiar faces back on the field this fall. Be sure to sign up HERE!
DREAM Team continues setting the standard for teaching the fundamentals and growing young athletes' skills and passion for baseball. Our fall teams will benefit from the same excellent coaching and training resources that propelled our spring program.
We're scouting for players who will embrace our philosophy of dreaming big, working hard, and being great teammates. Try out for one of our many upcoming fall teams at DREAM Team Baseball! Let's make the next season our best yet!
DREAM Team Summer Baseball ⚾ Training was incredible! We worked on Fielding, Hitting, Pitching, Agility, and so much more in the 6 Weeks of Training and players improved dramatically!
Training that focuses on player growth is what DREAM Team is all about, check out our Level Up Leaders and let's celebrate their hard work this Summer! 👏
Gear Guide
We know that buying baseball gear can be extremely overwhelming because there are SO many options on the market. We have created a guide for you in hopes it makes the shopping experience a little bit easier for you and your player.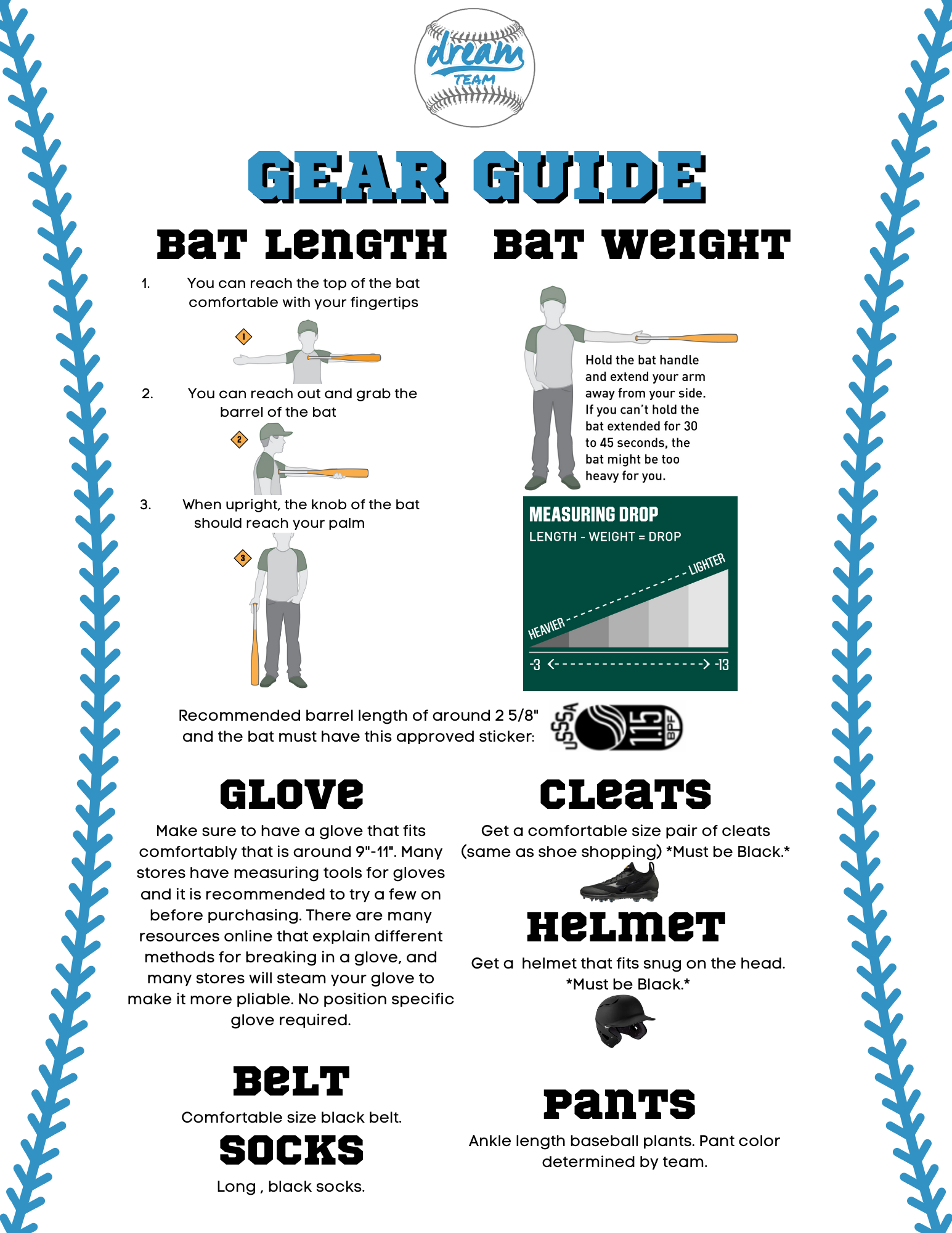 DREAM Team Gear
DREAM Team families can now support their players! We offer Gear for sale at the facility and also we will launch our Fall 2023 Season Store soon!
More DREAM Team in Action!
Family DREAM Center
DREAM Team is owned & operated by Family DREAM Center (founded in 2012) who serves close to 500 students in the area.