DREAM Team Baseball is a year round program provides quality instruction, constructive coaching, and outstanding practice facilities and fields. For all seasons, we have created the Training Track program that provides additional instruction that includes personalized training development, a monthly 1:1 session with our coaches and feedback from our staff.
During the off-season, we have created a training program that works on the fundamentals of hitting and pitching. It includes small group training sessions and individualized instruction all to help sharpen our player's skills before the Spring season begins. We also have included conditioning classes for this program to help improve their agility for the upcoming season.
Did you know...
DREAM Team offers private instruction for our players! Come book a session with one of our coaches if your player is looking to improve their hitting, pitching or even their throwing skills, Click HERE to book your private lesson today!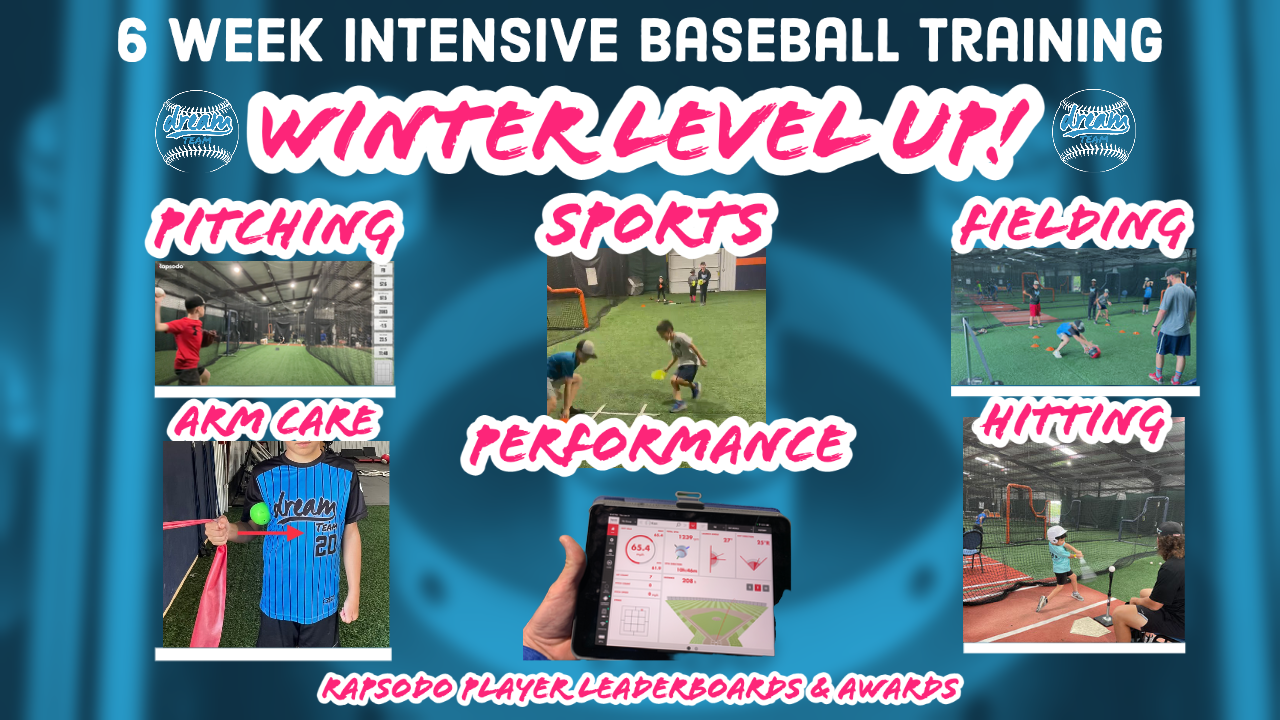 Winter Offseason Program
DREAM Team has worked diligently this off-season and has created what we think is the best baseball training program around. It features 6 weeks of instruction between December and January focusing on Hitting, Pitching, Fielding, Sports Performance, and Arm Care. There were include a lot of individualized instruction along with small group training to help keep our players sharp from now until the Spring season begins.
To register for Offseason Training, click below & select the Winter Offseason Training class in our client software (space is limited)!
Training Track (now included in every Membership in Spring 2023)
Grow your game!
What's Training Track & how does it develop baseball skills?
WORKSHOP & TRAINING EVENTS

Learn proper technique that will help you improve your hitting mechanics and throwing motion. Using innovative ball tracking technology like Rapsodo!

DRILLS THAT DEVELOP

Development comes quickly for kids when they're being taught the right way with drills that center around establishing mind & muscle memory.

INCLUDED 30 MINUTE MONTHLY LESSON

Schedule a private lesson to get hands-on instruction & coaching! A great value that's included!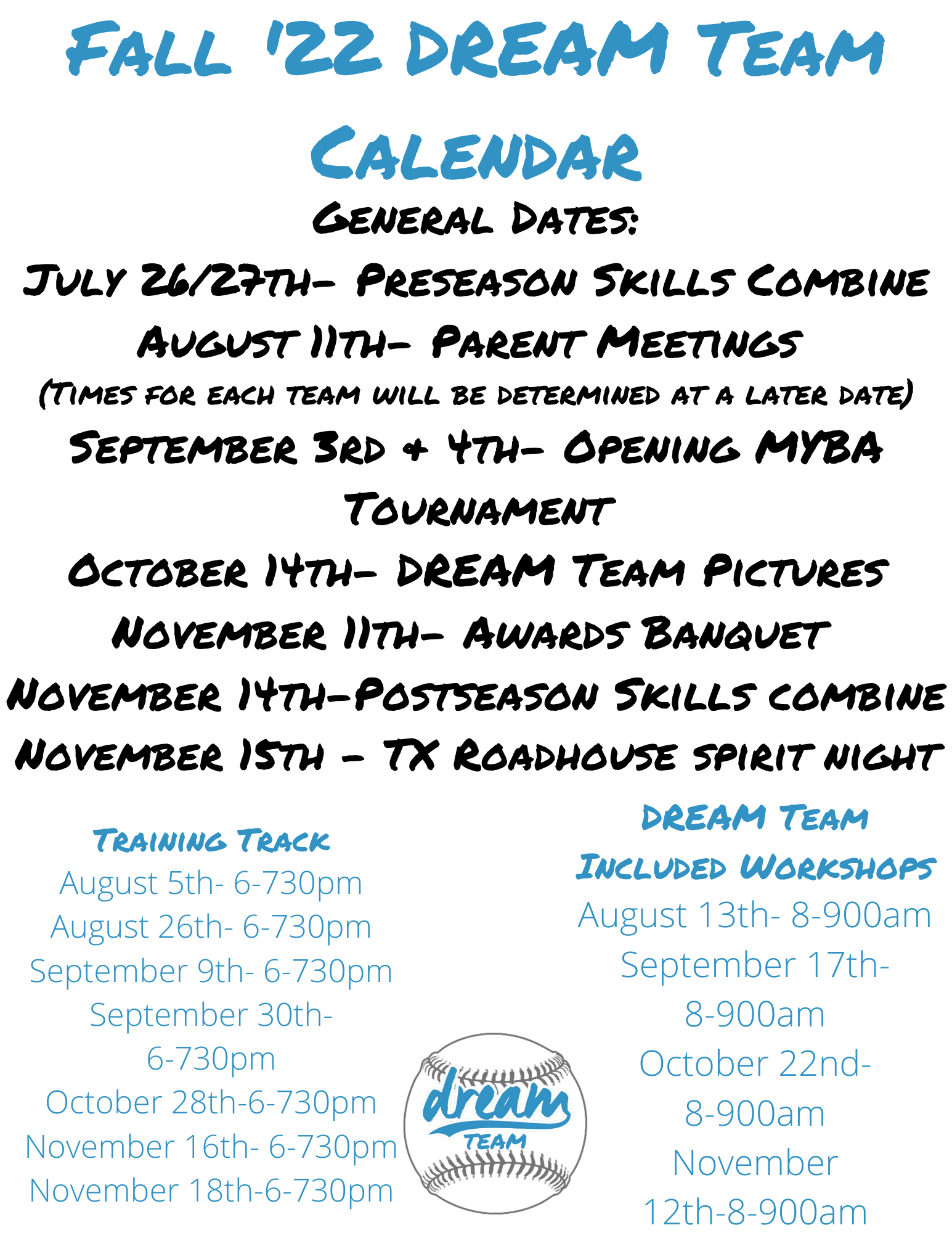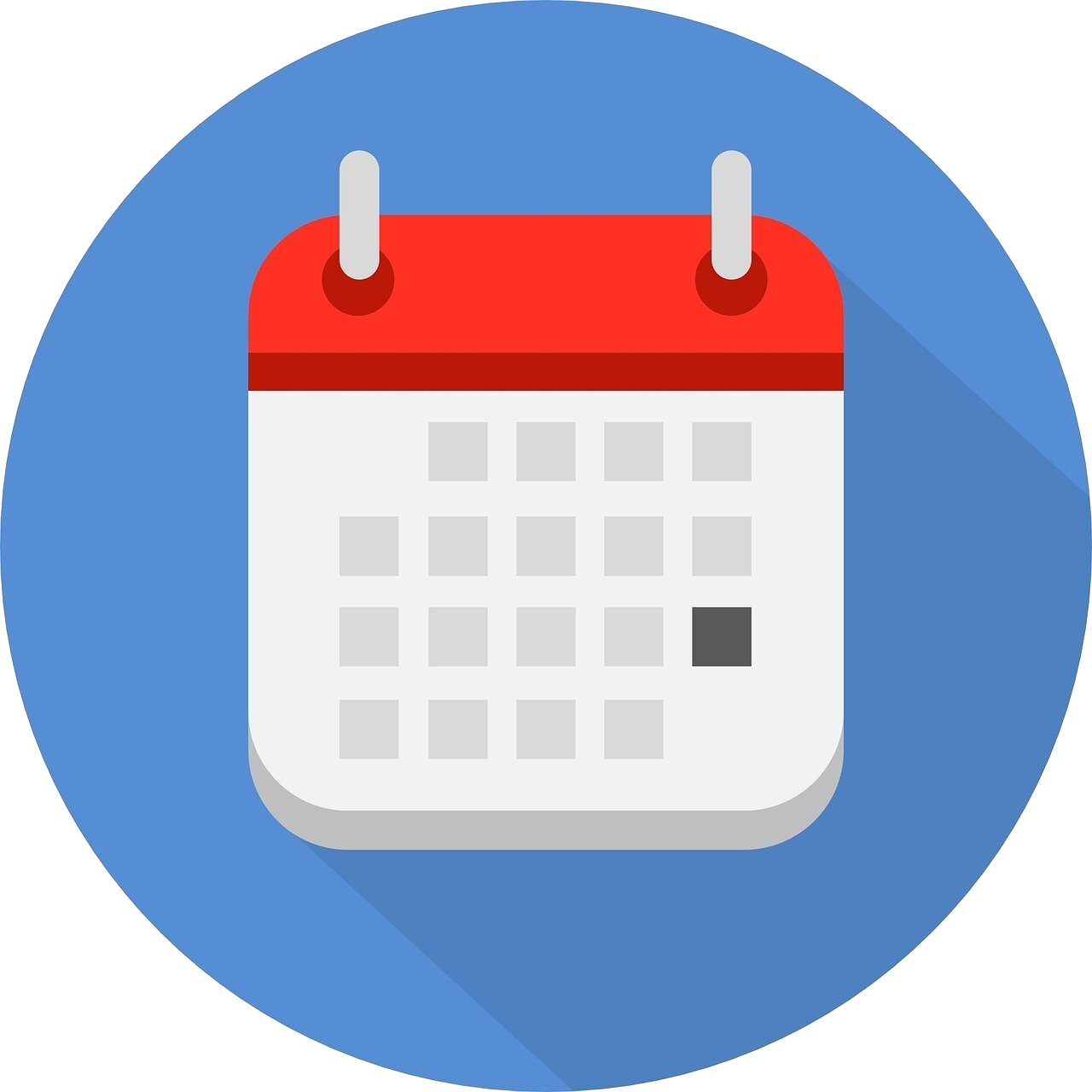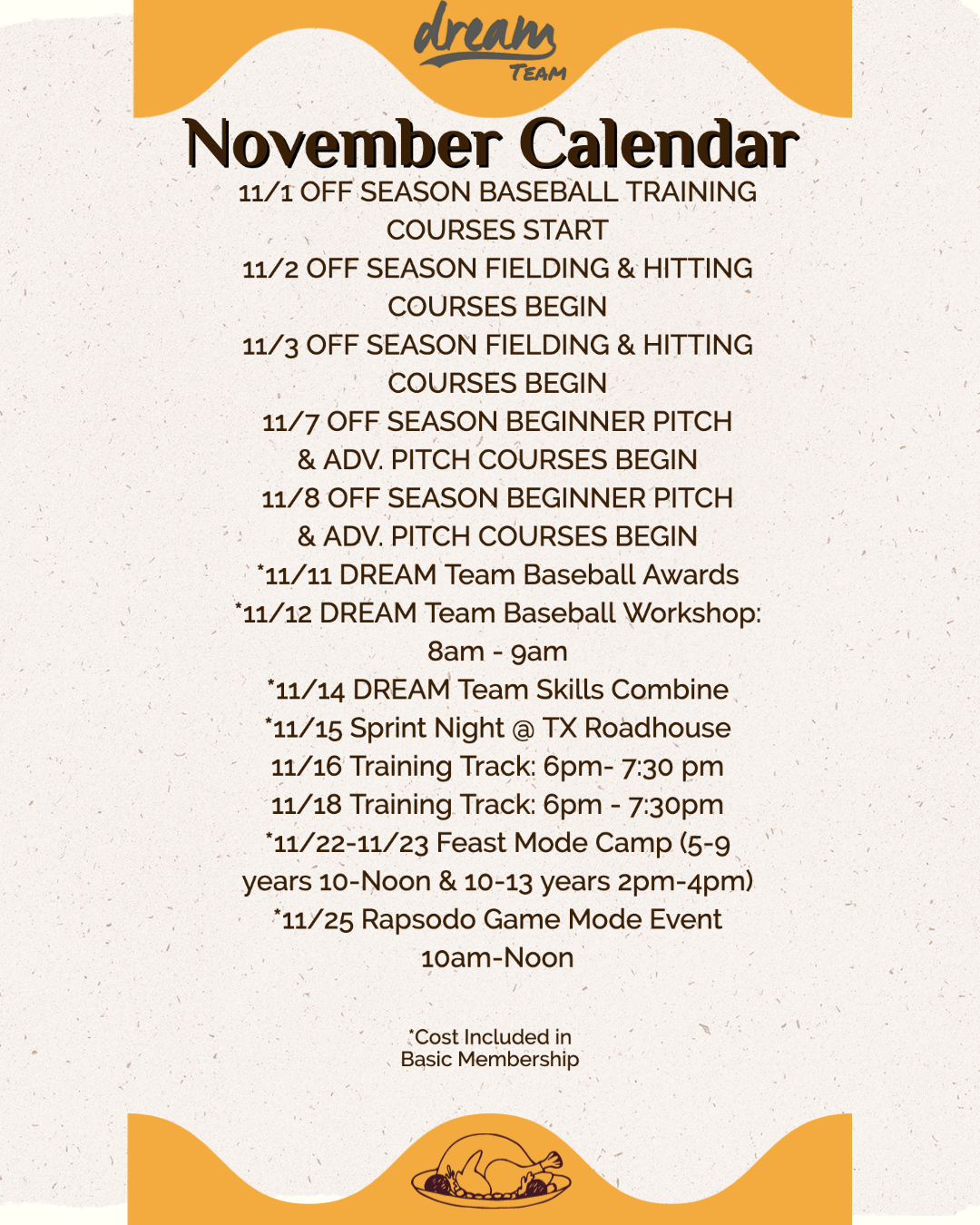 November 2022:
See calendar graphic for all of the exciting Offseason Training Courses that we're offering in the month of November!
Training Track Dates (see graphic above)
Postseason Skills Combine (see graphic above)
DREAM Team Workshops (see graphic above)
DREAM Team Baseball Summer Camps
This past summer we held our first DREAM Team Baseball summer camps and they did not disappoint! Over three weeks, we had almost 80 kids, ages 5-11, worked hard, sharpening their skills, but still having fun! Each day brought something new and there may have even been a water gun fight or two.
DREAM Team Summer Clinic & Combine
DREAM Team partnered with Elite Athlete Training to hold our first ever clinic and combine. We had almost 50 players receive measurable analytics to help improve their game! The

action-packed event included functional movement & strength screenings for kids along with access to an action plan for strengthening their athletic abilities and skills! This even raised the bar for these young players to focus on good conditioning, proper running & footwork technique, and understanding how to use athleticism to up your baseball game. Each player received a baseball card with their combine stats!!